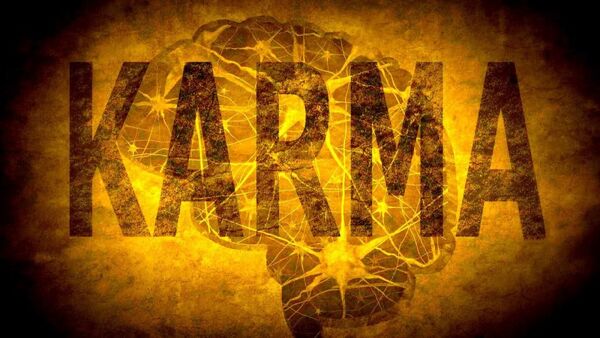 Karma is a brand new skill, completely custom and unique to Redemption. It centers around the struggle between Good and Evil, and to signify that, it can be trained in two directions. Players who choose the side of Good train the skill in the positive direction, with a max level of 150, while players who choose the side of Evil train in the negative direction, with a max level of -150.
Becasue of the size of the Karma Skill, including all of it's planned rewards, it is being released across several updates. The first update introduced the skill and it's training methods, while future updates will center around the skill's rewards.
Most of the skill's training surrounds making sacrifices, but there are some other passive and active training methods as well. For a full training guide, see Karma Skill Guide

---
In order to teach you a little more about Karma Skill as well as delving into Redemptionrsps Lore!
We introduce Redemptionrsps's First in what we hope to be a series of quests dealing with the curious and intruding world of Am'orth!
To start this quest you will need to obtain a Xebos Invitation (random drop while pvm'ing / buying it from another player)
Once you teleport to Xebos you will begin to talk with the boss. At the end of the dialogue you will be given a choice. Will you fight Xebos and attempt to gain control? (EVIL) or will you befriend Xebos and attempt to make peace? (GOOD)
This choice will define your faction and set your path for training the new Karma Skill!


For those who have chosen to be good, they will train up Karma like any other skill (to lvl 150 cap)
For those who have chosen to be evil, they will train their Karma level down (to lvl -150 cap)

Xebos is in his final form and will prove to be a tough opponent, spawning Guardians of Am'orth to try to take you down!
Note: Xebos and all of the Guardian of Am'orth have 450k hp so be prepared for a battle!
Note: It is HIGHLY advised to bring an AOE range weapon (Ak-47 Asiimov) as there the minion's use Protect from Magic
After defeating Xebos and the Guardian of Am'orth's, You will then be given information about gaining access to Am'orth and will be able to find your way to your respective guild!
The 4 kings are located within their respective castles, upon killing them you will receive their head. Then, combine all 4 head to make your respective staff.
Upon completing the quest you will be given either the Staff of Evil or the Staff of Good! This item (rather like the Ring of Kinship for Dungeoneering) is used to help train the skill and teleport to each respective guild!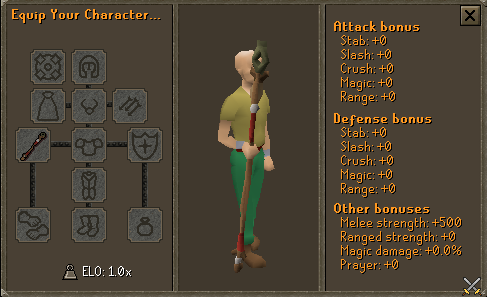 You will notice the staff will change as you level up! The higher your karma level, the more charge the staff gains!
Karma Staff Lvl 1                                                                                                    Karma Staff Lvl ± 150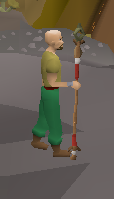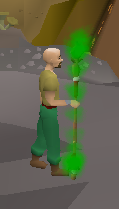 ---
Karma Guilds are a part of the new custom skill, Karma. They were designed to centralize all of the skill's training methods, aiding the player in their training. Inside, you will find all the tools, NPCs, and facilities needed to train the Karma Skill. Entry into the guild requires completion of the Karma Quest, and can be achieved by using the respective Karma Staff for your guild.

The guilds are laid out like a cross, with a central platform and four different smaller platforms to the north, south, east, and west.
The central platform contains the Karmic Altar, the dog, the Karma Guide, the Karmic Task Master, and the Karma Monk, which sells Altar Offerings.
The Northern Platform contains the karmic stalls, the Western Platform holds the Karma Tree, the Southern Platform holds the
Karma Statue
, and the Eastern Platform contains each guild's respective wells.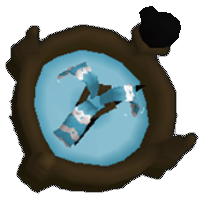 The
Well of Goodwill
and
Well of Bad Will
are new parts of the karma skill. DSCoins donated to either well give the player 1
Karma
exp per 1000 DSCoin donated. The
Well of Goodwill
communicates positive benefits upon the whole server whenever certain donation goals are reached. The
Well of Bad Will
, however, counteracts those effects, but only at half the rate. This means that every 1 DSCoin donated to the
Well of Goodwill
requires 2 DSCoins to be added to the
Well of Bad Will
in order to be counteracted.

---
Karmic Slayer was implemented with the addition of the Karma Skill on July 9th, 2019. You can now get a task at lvl ± 60 Karma from one of two new slayer masters! These slayer masters can be found by the tree of life at their respective guild.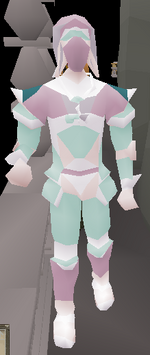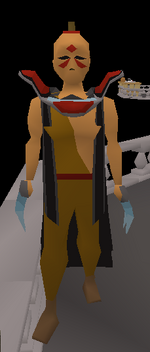 ---
These new slayer masters all give Tier 5 Slayer Tasks and upon completion you will be awarded: 1750 Karma EXP and 25,000 Karmic Kismets
In addition to this at level 85 Karma you can get the Good/Evil slayer masters to assign you an Abyssal Sire task for 100k Coins! This is great for those looking to stock up on Crystal (Abyssal Sire) and upgrade their dream armour!
---

---
Karmic Tasks are a method of training the new Karma Skill. They are very similar to slayer, but can include skilling or buying items from shops.

The tasks are assigned by the taskmaster pertaining to the player's guild. The tasks are the same for both guild. Each task consists of five jobs the player must complete before returning to the taskmaster.
The 5 jobs are chosen at random from the following list (click expand to see the list):
Kill 25 Magegrays
Kill 50 Shadow Kings
Kill 50 Sea Troll Queens
Kill 50 Tormented Demons
Chop 100 Magic Trees
Chop 150 Yew trees
Eat 100 Sharks
Craft 100 Air runes
Craft 100 Mind runes
Craft 100 Earth runes
Craft 100 Water runes
Cut 100 Normal logs
Cut 100 Oak logs
Kill 100 Pikachus
Kill 25 Chaos Elementals
Mine 75 Tin Ores
Mine 75 Copper Ores
Catch 75 Dragon Implings
Smith 50 Bronze Bars
Cut 150 Dragonstones
Pick 250 Flax
Cook 100 Sharks
Catch 150 Monkfish
Cook 200 Monkfish
Kill 100 Dragonbones
Kill 150 Thugbobs
Kill 125 Luigi's
Kill 50 Icy Skeletons
Kill 50 Phoenix
Kill 75 Bork
Open 125 Mystery Boxes
Use 200 Crystal Keys on Chest
Bury 300 Penguin Bones
Bury 200 Frost Bones
Bury 100 Icy Bones
Bury 50 Phoenix Bones

---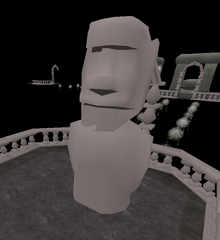 The
Karma Statue
is a way of sacrificing items, mainly combat gear, in exchange for
Karma
experience and
Karmic Kismets
. It is by far the fastest method currently in game for training the
Karma Skill
, but it is also wildly expensive.

It can be found on the Southern Platform in the player's respective Karma Guild.
The items which can be sacrificed, as well as their experience and Kismet values are as follows (click "Show" to see the list):
Karma Offerings
Item
EXP Gained
Karmic Kismets received
Golden Minigun
± 20k
10k
Eternal Khione's Staff
± 50k
25k
Icy Glaive
± 500k
50k
Shadow Torva Full Helm
± 25k
5k
Soulflare
± 2k
500
Soulflare (u)
± 10k
1k
Minigun
± 10k
3k
Devious Pieces
± 100k
10k
Lava Minigun
± 1000k
100k
Helicopter Pet
± 500k
50k
Crystal Pieces
± 100k
10k
Eternal Crystal Pieces
± 150k
15k
Collector's Necklace
± 5k
1k
Berserkers/Seers/Archers Boots
± 50k
5k
Electronic Katana
± 25k
5k
Unltimate Dream Katana
± 25k
5k
Beserker/Anguish/Mystic Gloves
± 25k
5k
Dream Range Pieces
± 100k
25k
Dream Mage Pieces
± 100k
25k
Dream Melee Pieces
± 100k
25k
Yix/Tam/Nax Amulets
± 30k
3k
Infernal Pieces
± 20k
2k
Olaf Pieces
± 20k
2k
Am'orth Pieces
± 20k
2k
Soulflare (X)
± 10k
1k

---
Introducing Raid 8!
The Mad King Raid!
This raid is only accessible to those with level 90 or level -90 Karma
There are 4 pesky stages for you to endure in order to complete it!
---
Wave 1
In this wave you will have to kill The Mad Prince. Only melee attacks can be used and he has 500k HP. NOTE: You can't attack when he is engraged, he must return to normal size before you can attack. This process keeps repeating where he enrages and returns to normal.
Wave 2
In this wave you will have to kill The Mad Prince Regent. Only Magic attacks can be used and he has 350k HP. NOTE: You can't attack him when his minions are alive, they must all be killed before you can do damage
Wave 3
In this wave you will have to kill The Mad King. Only Range attacks can be used and he has 625k HP. NOTE: You can't attack when he is engraged, when he says "I feel weak" is when you can do damage
Wave 4
In this wave you will have to kill The Insidious Queen. All three combat styles will need to be used as she switches protection prayer between all of them (Same system as Thanos in the Avengers Arcade). NOTE: Will constantly teleport around the room and you have to wait to attack.
---
Upon completing the raid you will be rewarded with 5k Karma Exp and 1k Karmic Kismet's, As well as a random drop (using the same drop table as the Shredder !)
The Karma Reward Shop is accessed by talking to the Karma Guide at the player's respective Karma Guild. It gives access to all the rewards available from the Karma Skill, at the cost of Karmic Kismets. Ironmen receive a hefty discount paying only 33% (roughly) of the regular store price.
The Evil Karma Shop
The Good Karma Shop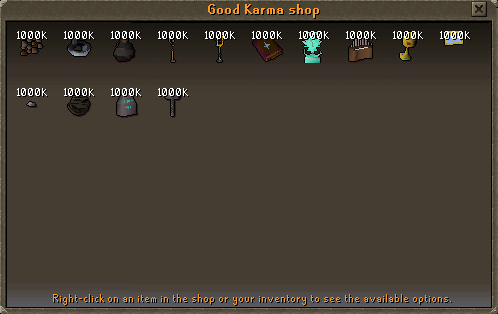 Karma Reward shop Pricing
Good
Evil
Level Requirement
Price
Ironman Price
Trail Mix
Bag of Cheetos
1
10,000 Karmic Kismets
3,333 Karmic Kismets
Fitbit
Skateboard
10
1,000,000 Karmic Kismets
333,333 Karmic Kismets
Bag of Redemption
Fanny Pack
20
2,500,000 Karmic Kismets
833,333 Karmic Kismets
Holy Incense
Vape
30
5,000,000 Karmic Kismets
1,666,666 Karmic Kismets
Prayer Candle
Rayban Shades
40
7,500,000 Karmic Kismets
2,500,000 Karmic Kismets
Book of Blessings
Gucci Shades
50
10,000,000 Karmic Kismets
3,333,333 Karmic Kismets
Holy Relic
Versace Shades
60
12,500,000 Karmic Kismets
4,166,666 Karmic Kismets
Organ
Electric Guitar
70
15,000,000 Karmic Kismets
5,000,000 Karmic Kismets
Communion Cup
P.I.M.P. Goblet
80
20,000,000 Karmic Kismets
6,666,666 Karmic Kismets
Emergency GPS
iPhone
90
25,000,000 Karmic Kismets
8,333,333 Karmic Kismets
Holy Scrimshaw
Rolex Watch
99
30,000,000 Karmic Kismets
10,000,000 Karmic Kismets
Divine Scrimshaw
Patek Phillipe Watch
110
40,000,000 Karmic Kismets
13,333,333 Karmic Kismets
Scrimshaw of the Protectorate
Audermars Piguet Watch
120
50,000,000 Karmic Kismets
16,666,666 Karmic Kismets
Hammer Of The Gods
Axe Of Revenge
140
100,000,000 Karmic Kismets
33,333,333 Karmic Kismets
Community content is available under
CC-BY-SA
unless otherwise noted.