The M4A4 Asiimov is a powerful two-handed ranged weapon. It is the most powerful single-target, tradeable ranged weapon in DreamScape.
To obtain the M4A4 Asiimov you can attempt to upgrade a Golden Minigun into a M4A4 Asiimov at ::upgrade, which has a difficulty rating of medium. You can also purchase it from DreamScape's Webstore for 250$. Players can also buy it from the Slayer Level 2 Prestige store, for 5000 Slayer Points.
Currently, it is not dropped by any bosses.
It can be obtained from the following boxes:
At the moment, the price of M4A4 Asiimov is roughly: 10M-20M DScoins
---
Combat Stats
| Class | Slot |
| --- | --- |
| | |

Bonus
Attack
Defence
Stab
0
0
Slash
0
0
Crush
0
0
Magic
0
0
Range
+2500
0
Special bonuses
Melee
0
Ranged
+5000
Magic
0
Prayer
0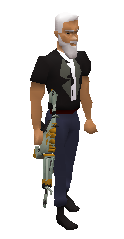 Community content is available under
CC-BY-SA
unless otherwise noted.