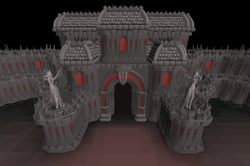 The Theatre of Blood is a large arena located using the Raids teleport "Theatre of Blood"
There is also a Verzik's crystal shard that can teleport you instantly to the raid.
Bosses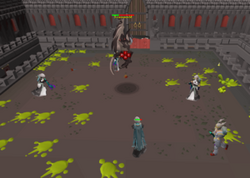 The Theatre of Blood is a linear raid. Thus, there is no randomization involved, and the bosses will always be encountered in this order.
Death within the Theatre
If players die within the theatre, they are placed outside the fighting area, and can only proceed if other team members succeed in completing the current challenge. If the entire team is killed, players will lose all progress and would be kicked out of the raid to try again.
All normal forms of teleportation within the Theatre are blocked; however, the Mysterious Stranger outside sells Verzik's crystal shards for 0 coins each, and is the only item players can use to teleport away from the Theatre safely.
Rewards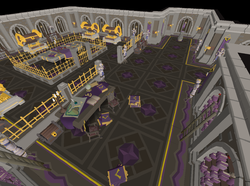 Upon defeating Verzik Vitur, a trapdoor will open under her throne, leading to her treasure vault.
There is a chest that all players will loot from, click the chest and receive your loot from the raid!
Armour
With the bosses not being hard themselves, there are mechanics to the raid that can be deadly.
Drops