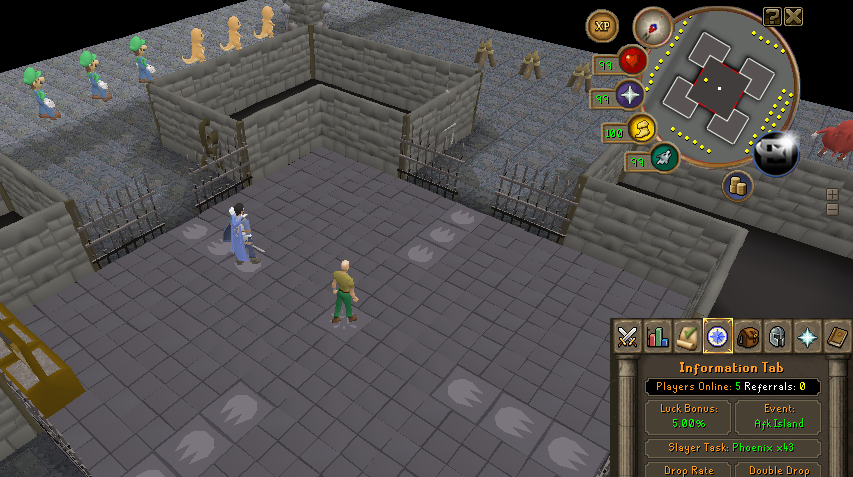 The Training teleport can be accessed using the ingame command ::train

Players can now do training tasks to receive extra points. The number of NPC's to kill can vary from 10-50 kills. Upon completion of the task the player will receive 5 extra training points.
Trainee Shop
Item
Price
Super Mystery Box
15 Points
Ultra Mystery Box
25 Points
Pet Mystery Box
25 Points
Trix helmet
50 Points
Trix PlateBody
50 Points
Trix PlateLegs
50 Points
Blizzard Virtus Mask
100 Points
Blizzard Virtus Top
100 Points
Blizzard Virtus Legs
100 Points
Blizzard Shield
100 Points
Blizzard Staff
150 Points
Infernal Hat
175 Points
Infernal Top
175 Points
Infernal Bottoms
175 Points
Infernal Kiteshield
175 Points
Infernal Gloves
175 Points
Infernal Boots
175 Points
Crystal Helm
250 Points
Crystal PlateBody
250 Points
Crystal PlateLegs
250 Points
Eternal Crystal Helm
350 Points
Eternal Crystal PlateBody
350 Points
Eternal Crystal PlateLegs
350 Points
American Pernix Cowl
50 Points
American Pernix Body
50 Points
American Pernix Chaps
50 Points
Devious Helm
500 Points
Devious PlateBody
500 Points
Devious PlateLegs
500 Points
Oblivion Scythe
15 Points
Frostbite Staff
25 Points
Soulflare (X)
75 Points
Khione's Staff
150 Points
Eternal Khione's Staff
250 Points
Minigun
25 Points
Golden Minigun
50 Points
M4A4 Asiimov
125 Points
AK-47 asiimov
250 Points
Aqua Spirit Shield
200 Points
White Glass Wings
15 Points
Blue Death Cape
75 Points
Groudon Pet
100 Points
Necromancer jr
200 Points
Diablo jr
400 Points
Ring Of Wealth (i)
75 Points
Avery's Ring
200 Points
Collector's Necklace
300 Points
Community content is available under
CC-BY-SA
unless otherwise noted.